Weekly roundup Saturday 30 April
---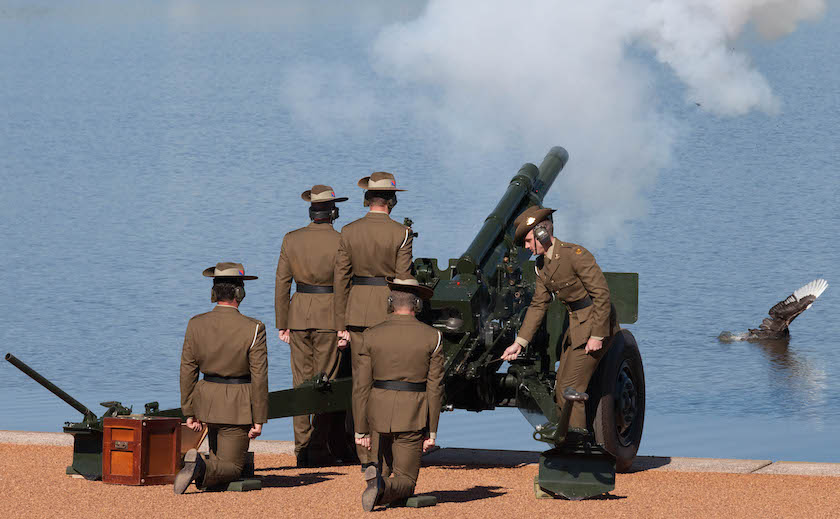 Artillery at Lake Burley Griffin, rehearsing for a khaki election
---
Weekly roundup of links to articles, reports, podcasts and other media on current political and economic issues in public policy.
---
The Coalition's security performance – all announcements, no action. Yes, we need a proper integrity commission but we also need an integrity culture. The "carbon tax" scare campaign. How Morrison got "cancel culture" on to the agenda even though no one was being "cancelled". Labor's Pacific policy – low-cost and effective. The media's campaign coverage – how bias works through elevating trivia at the expense of public policy.
Don't forget about the Senate: there's a nationally important contest in the ACT. Opinion polls still provide little hope for the Coalition as voters fail to be moved by the campaign, but they give some insights on far-right parties.
The CPI, the inevitable rise in interest rates, and why it's really all about productivity. How the Coalition fails even on its own limited economic criteria. Why is the Liberal Party so hostile to the conservative ideal of home ownership? Stop worrying too much about income distribution: our wealth distribution is far worse. Reconstructing universities after Morrison and Covid-19.
Elections in France, Slovenia and Malta: victories for centrist parties but the far-right is holding its ground.
Worldwide cases are falling, but keep an eye on China. In Australia cases and deaths are rising, with an ongoing load on hospitals, but the death rate per infection is still low. Western Australia has a different and so-far successful approach.
Plenty to watch, listen to, and read if you're sick of the campaign.
France hears the sounds of an ancient culture.
---
If you have feasted yourself on this selection, Australian websites with regular comment and analysis on economic and political developments include The Australia Institute,The Conversation, The Grattan Institute, Inside Story, The Lowy Institute, Michael West Media, Open Forum, Pearls and Irritations.
If you have comments, corrections, or links to other relevant sources, I'd like to hear from you. Please send them to Ian McAuley — ian, at the domain name ianmcauley.com
---