Other election issues
---
Labor's launch
Anyone following the campaign will have come across media on Labor's campaign launch.
Sarah Martin, writing in The Guardian, has a concise summary of the main policies unveiled at the launch – a reduction in the price of PBS medicines, an emphasis on value-adding in resources within its national reconstruction fund, gender equity as an objective in the Fair Work Act, a fund to promote electric vehicles, and its housing equity scheme.
At the launch Jason Clare gave a short (7-minute) speech, in three parts, essentially setting out Labor's campaign strategy. The first part, in Keatingesque style, was about Morrison, the prime minister who refuses to take responsibility, whose campaign pitch to voters is to dress up pretending to do other people's jobs, who's "all tinsel and no tree".
He then moved on to frame the campaign in traditional Labor terms:
We are the party that has shaped this country for the better. We're the party of Medicare, of superannuation, the NDIS. We're the party of the big economic reforms that have made Australia what it is today. We're the party that turns the Australia of your imagination into something real."
That led to a glowing introduction to Albanese, enunciating his moral convictions and dedication to public service. That's standard fare, but he then added the Labor emphasis, presenting Albanese as someone who will build from the common ground (quite different from the Liberal Party with its emphasis on individual "aspiration"), and "In Anthony I see the unbending conviction of someone who knows that governments at their best really can change the lives of Australia for the better" (in contrast to the Liberal Party belief that government is simply a large burdensome and wasteful overhead).
---
Albanese on Q+A – strong on policy in a way that Morrison isn't
On Thursday night Albanese appeared on an ABC Q+A session, facing an audience and host David Speers. Questions from the audience ranged from the specific – can Labor fix specific problems with the bureaucracy of NDIS that are making my life difficult? – through to the most general – are people dissatisfied with the major parties? – and the ridiculously partisan – how can we elect someone who has not previously been treasurer?.
For the first half-hour he was confronted by particularly tough questioning, not only from the audience, but also from David Speers who seemed to be well-briefed on the issues raised in the questions. He kept pressuring Albanese to provide more detailed responses and at times tried to elicit categorical policy commitments. In the second half-hour when the questions were less structured, Albanese had an easier run to respond without interruption.
Albanese performed well under that pressure. He showed an understanding of the full gamut of public policy and the ways policies interact, and, most importantly, was able to frame his responses in terms of the principles underpinning Labor's policies.
It would be hard to imagine how Morrison would perform in such a Q+A session, where the audience and host demand something more substantial than a refrain "Jobs, jobs, jobs, jobs" and demand explanations in terms of policy principles. Morrison has been invited to appear on Q+A, but has declined.
For those who don't have an hour to spare, the ABC's Paul Johnson has a summary of the main points in the session.
---
An integrity commission: the Coalition's model is pathetic; Labor's is OK but could be better
The Conversation asked five law and public policy academics to rate Labor's and the Coalition's proposals for an independent anti-corruption commission, and without collation has provided their short responses.
They assess the Coalition poorly, mainly because it defines "corruption" only in terms of criminal behaviour. Many practices such as stacking boards with party apparatchiks, and distributing discretionary funding to favoured electorates, would not be covered, there would be no public hearings, and the threshold for bringing a case to the commission is too high.
They assess Labor much more positively. A general comment is that Labor needs to provide more detail on its model, however. This contrasts with one comment on the Coalition's take-it-or-leave-it proposal: we know just what we would get. Labor's model needs more design consideration than a cut-and-paste of a state model, and could do with a stronger assurance that it is completely free of any risk of politicization.
On the question of what an integrity commission should consider as corruption, Anthony Whealy, chair of the Centre for Public Integrity , has written a letter to the Financial Review establishing the case for partisan allocation of discretionary grants to be considered as corruption: Pork barrel politics isn't just about integrity; it is corrupt. (This is in response to an editorial in the paper asserting that pork barrelling is just politics as usual and should not be of any concern.)
Also on the question of an anti-corruption commission, Stephen Rushton, one of three independent commissioners on the New South Wales ICAC, has slammed the accusation that ICAC acts as a kangaroo court as deeply offensive, describing its critics, including Morrison, as "buffoons". ICAC is not a court, and "to describe us as a kangaroo court is not just misleading, but untrue" he said. New South Wales premier Perrottet has joined the criticism of Morrison, in softer language, suggesting he went too far.
---
Press freedom: Australia slips further away from Norway and towards North Korea
Reporters Without Borders has produced its 2022 Press Freedom Index, and compared with other liberal democracies, Australia gets a poor score, having slipped from #25 in 2021 to #39 in 2022, behind most western European countries – even behind the UK (#24). At position #11 New Zealand is well ahead of us.
The Nordic democracies, including Estonia, occupy the top places. Bottom place, by a long shot, is held by North Korea. China, Vietnam, Myanmar and a bunch of middle east countries do a little better than North Korea but are still among the most poorly ranked countries.
In its notes on Australia it puts our poor score down to the concentration of commercial media. The Press Freedom Index has consistently referred to the Murdoch media's dominance in newspapers and on-line portals in Australia, and now it draws attention to the strong position of the Nine Entertainment group. "This oligarchic model prioritises business interests to the detriment of public-interest journalism".
No doubt this subjugation of media to business interests lies behind the ease with which the Liberal Party has fashioned its election campaign as an exercise in media management, in which image, pre-packaged for commercial media, has taken the place of substance, and has enjoyed an unchallenged run with its claim to economic competence, as Michael West explains in his video The Liberal myth. (12 minutes)
Besides these observations on concentration of commercial media, the Reporters Without Borders report mentions cuts to the ABC's funding and the processes by which its board is appointed, intimidation of whistle-blowers, laws passed under national security priorities, and the lack of constitutional protection of press freedom.
Cherian George, writing in Crikey, discusses press freedom more generally, establishing a strong case for public interest journalism because of the deterioration of other media. Outnumbered and outgunned, public-interest journalism is losing to identity politics (may be paywalled). There has been a proliferation of new media, but "instead of enlarging common spaces for democratic deliberation, the global trend is towards political polarisation".
---
Under a Labor government you'll be cooking with a wood stove, taking cold showers, and lighting your house with candles
In March Angus Taylor confidently predicted that electricity prices would always be lower under a Coalition government.
The Coalition's argument is that because Labor intends investing $20 billion to rebuild and modernize the grid under its Rewiring the Nation policy, electricity prices will rise. That argument has a superficial credibility, because between 40 and 50 percent of our electricity bills is the cost of transmitting electricity between power plants and our homes and businesses.
The Coalition has even been able to boast that on their watch electricity prices have fallen. That is so: there has indeed been a real fall in the price of electricity since they were elected in 2013.
They have been caught out, however, by the latest quarterly report from the Australian Energy Market Operator (AEMO), which shows that after two years of falling wholesale electricity prices, they have been rising over the last twelve months, particularly sharply (67 percent) in the last three months. We haven't seen this in our electricity bills yet, because retail prices are generally set once a year in July. Normally we should know by now what we will be paying for electricity come July, but writing in the Sydney Morning Herald – "Power bills will increase": Electricity hike charges up cost of living election clash – Nick Toscano and Mike Foley explain that the government has delayed announcing the maximum retail price until May 25.
That means if Labor is elected, the Coalition's prophecy that electricity prices will be higher under a Labor government will be verified!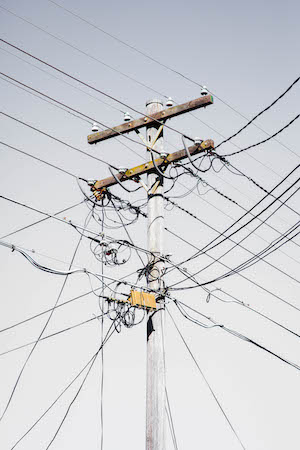 Polls and wires – half your bill
There are two reasons why prices fell over 2019 and 2020. One is that the government lowered the excessively generous profit allowed to regulated transmission companies. The other is that more low-cost renewable electricity became available, in spite of the Commonwealth's policy of tilting the market against renewable energy by subsidising fossil fuels. Had the Abbott government not abolished carbon pricing in 2014, we would now be enjoying a much larger share of low-cost renewable energy in the grid.
The most recent rise in wholesale prices is due mainly to two factors. One is a rise in fossil fuel prices associated with the Russia-Ukraine war, and the other is "unplanned coal generation outages" in Queensland's coal-fired stations, even though these are comparatively new compared with the ancient stations in New South Wales and Victoria. (Peter Hannon, writing in The Guardian, explains the AEMO report in detail.) The AEMO findings confirm the general reality that burning fossil fuels is an expensive way to generate electricity and that our coal-fired power stations are unreliable.
As for the Coalition's claims about future prices under a Labor government, they are misleading. Yes, they will rise in July, whoever is elected, but we need to look a little longer-term. Labor's plan to invest in the grid is an implementation of the AEMO's Integrated System Plan (if you follow the link go to the 2020 plan, because the 2022 plan is not yet completed). That plan is mainly about connecting the nation's renewable energy hotspots, which are in different geographic and time-zone locations, thereby increasing the reliability of renewable resources and therefore having to rely less on expensive gas-fired supplementation.
Also the cost of that infrastructure should have much less impact on electricity prices than infrastructure built by private companies and financed at commercial rates of return. That's because it will be financed by low-priced government debt, as Mike Seccombe explains in the Saturday Paper: Labor proposes financing much of that investment through an infrastructure fund. Because they are monopoly assets with a secure market in an industry with mature technology, there is every good reason to keep transmission and distribution infrastructure in public ownership, financed at or a little above the government bond rate. That was how state-owned electricity utilities financed infrastructure before governments embarked on a neoliberal orgy of privatization, allowing corporate owners of electricity infrastructure to make monopoly profits financed by electricity users.
In any event, in terms of cost-of-living pressure, what counts for people's wellbeing is not just the price of electricity, but also the amount of electricity and the price and amount of other household fuels (mainly gas) they use. Energy-saving, however, has hardly entered the political debate, as Mark Diesendorf points out in The Conversation: Net zero by 2050 will hit a major timing problem technology can't solve. We need to talk about cutting consumption. That's because worldwide demand for electricity is rising faster than the supply of clean electricity. He suggests a number of measures to reduce consumption, including carbon taxes, and other measures that go to the core of stemming population growth and reducing economic activity.
---
Polls apart
Four national polls all give different estimates of people's voting intention, but they all point to a strong Labor win, and they suggest that any fall in Labor support, evident early in the campaign, is no longer occurring.
Details are on William Bowe's Poll Bludger website, and in a Conversation article by Adrian Beaumont. Two-party-preferred estimates show Labor's lead at 4 percent (Essential), 6 percent (Newspoll). 8 percent (Resolve Strategic), and 11 percent (Roy Morgan). This range of TPP results comes from different ways of estimating preference flows and different assumptions about undecided voters.
Primary votes from all four sources are shown below, "right populist" being the sum of One Nation plus UAP. The variation in "right populist" is large, as it is in "other", but as a statistical rule, estimates for small groups always show a large margin of error.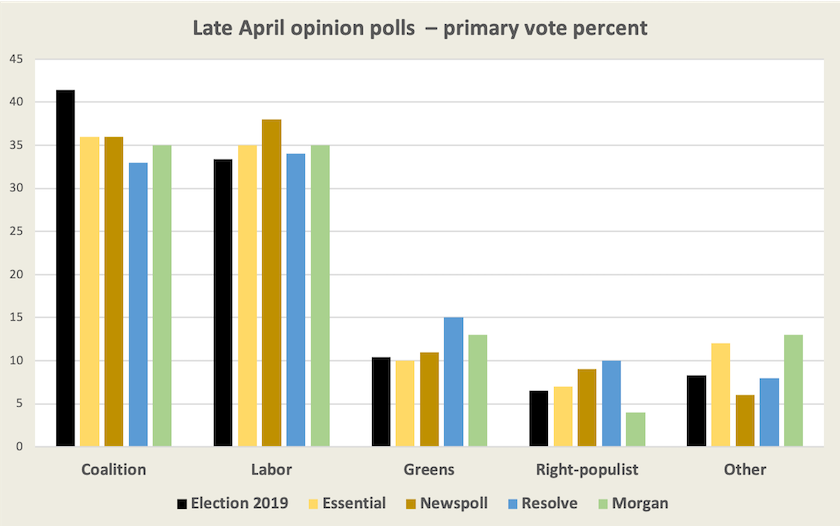 From these polls it can be said with reasonable confidence that compared with 2019, Coalition support is down by about 5 percent, but that could be compensated partly by preferences from stronger-polling far right populist groups. Labor support is up by about 3 percent, and should be boosted a little more by higher support for the Greens.
For those seeking some assessment on the accuracy or otherwise of different polls, William Bowe has an article on his site titled Tracking the Bludge, in which he explains how he weighs different polls for his BludgerTrack (now showing 54:46 TPP) depending on their perceived rigour and accuracy, and how he uses an aggregation of small samples to obtain his state-by-state figures on BludgerTrack.
Teal independents
What the preceding figures do not reveal is the support for well-organized independents associated with the "Voices" and "Climate 200" movements. That's because unlike the established political parties they are running only in selected seats: their influence is lost in the "other" category.
On the ABC's Breakfast program Patricia Karvelas interviewed election analyst John Black, who has paid a great deal of attention to strongly contested seats, including some that were once considered to be invulnerable Coalition territory but are now subject to competition from strong centrist independents. There are strong independent challenges in many once "blue-ribbon" Liberal urban seats. In some such seats, where there is no strong independent candidate, the Greens are polling well, and could have a reasonable chance of being elected. This is particularly relevant in Queensland, where there are no Climate-200 candidates, and where the Greens are running some strong campaigns. His website Elaborate has a number of maps showing, by electorate, demographic and other data with relevance to people's voting intentions.
Writing in The Conversation Amy Newby of Deakin University explains Why teal independents are seeking Liberal voters and spooking Liberal MPs, while the politically most influential comment on the influence of "teal" candidates is made by Malcolm Turnbull on the ABC's AM program: Malcolm Turnbull makes dramatic campaign intervention. "The voice and the influence of the 'moderates' or the small l liberal wing of the Liberal party, at the federal level, is diminished and diminishing". The party elders may claim the Liberal Party is a broad church, "but they've taken a few of the pews out". (6 minutes)
Policies count more than leaders' ratings
John Black also has comments on the predictive value of party leaders' ratings. Although Morrison and Albanese are about level on approval (minus 7 percent, minus 9 percent respectively), Morrison leads Albanese 45 to 39 percent as preferred prime minister. Black believes that if Albanese can close that gap it may be worth a couple of percentage points for Labor, based on his research.
The same Essential Report that covers voting preferences has a question about the influence of parties' policies versus the influence of party leaders in determining voting preferences. Fortunately for Labor policies trump party leaders, 66 percent to 20 per cent with 14 percent unsure.
Essential also asks about the importance of election issues. Cost of living, public services, job security and climate change are the top four, and on all of these issues people believe Labor can do a better job than the Coalition.
Boat turnbacks don't get much traction, and not many Australians lie awake at night worrying about equity issues concerning transgender women in sport.
---
Election outcomes: a Labor majority, a minority government, a Coalition majority, or…?
Most media cannot break from the two-party winner-take-all Westminster political model, disregarding the evidence that a third of the electorate intends to vote for someone not from the two established parties (even one of the "parties" is actually an uncomfortable coalition). A few speculate that the election outcome may be a "hung" parliament – a particularly British term implying something not-quite-right, which most others would call a minority government. (Australians have no difficulty with minority governments, and it's a long time since they have given one party a majority in the senate.)
Michael West Media's Mark Sawyer takes us to a fourth possible outcome, a German-style grand coalition, between Labor and the Coalition.
His article The Coal Coalition: what if the majors cut their own deal? Stranger things have happened, covers possible election outcomes – the grand coalition is just one of them. It is fanciful, but because there isn't much distance between Labor and the Coalition on energy and climate change policy, it could be a way to settle the long-standing climate wars.
Perhaps he could consider a fifth outcome, a Labor-Liberal coalition, consigning the National Party to one of the outer paddocks. And a sixth outcome would be a Labor-National alliance. That has a precedent in the Labor-Country Party alliance in Victoria between 1950 and 1952.
---